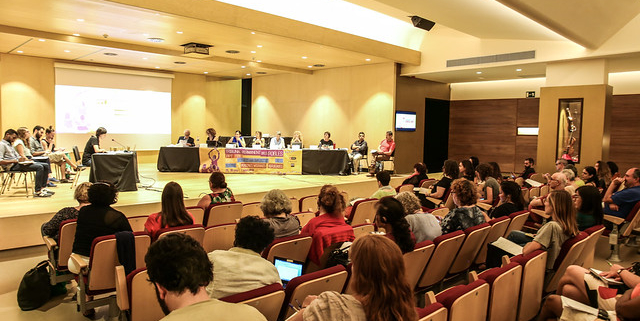 Peoples Opening Borders and Together Building Solidarity
(Spanish below)
July 14, 2017
We, as organisations involved (as Co-Convenors of) in the Permanent Peoples Tribunal (PPT) on the Violations with Impunity of the Human Rights of Migrant and Refugee Peoples launched in Barcelona on July 8th, greet the Caravana Abriendo Fronteras A Melilla((https://abriendofronteras.net/) , (Caravan Opening Borders) as you journey this week from many points of the Spanish State to Melilla, Morocco. We welcome this initiative and action following up on the Caravan to Greece in 2016.
Such joint action of solidarity is a strong challenge to the ongoing repression and militarization of the EU border regimes. Testimonies heard at the PPT have given us graphic evidence of the massive violations of human rights with impunity being perpetrated at the borders of the EU. These indicate a regime of crimes against humanity being committed with the complicity of EU governments resulting in thousands of deaths and disappeared persons in the Mediterranean and Aegean seas – making this one of the biggest mass graves in history.
As migrant and refugee peoples – our journeys start from the root causes of a neocolonial economic model that drives us from our land and livelihoods or from the wars that continue to ravage our countries and our natural resources. In addition, the borders that exclude us in the EU policy of the externalization of borders also extend within the EU Fortress in sites without rights – in detention centers and camps as well as in the prevailing structural racism and increasing islamaphobia and xenophobia that impact on our daily lives.
But we respond to this situation with an invitation to construct a new solidarity built on peoples' sovereignty! We add our voices in hope to your action and call for the Opening of the EU Borders Now!
Pueblos abriendo fronteras y construyendo solidaridad
14 de julio de 2017
En tanto que organizaciones que participaron como co-convocantes del Tribunal Permanente de los Pueblos (TPP) sobre la violación con impundiad de los derechos humanos de las personas migrantes y refugiadas iaugurado en Barcelona el 8 de julio de 2017, saludamos al Caravana Abriendo Fronteras – A Melilla, (https://abriendofronteras.net/) que se desplaza desde muchos puntos del Estado español hasta Melilla, Marruecos. Saludamos cálidamente esta iniciativa y acción de seguimiento de la Caravana a Grecia en 2016.
Esta acción conjunta de solidaridad constituye un desafío importante frente a la actual represión y militarización de los regímenes fronterizos de la Unión Europea (UE). Los testimonios escuchados en el TPP nos han brindado evidencias sobre las violaciones masivas de los derechos humanos con impunidad perpetradas en las fronteras de la UE. Indican un régimen de crímenes de lesa humanidad cometidos con la complicidad de los gobiernos de la UE que tienen por resultado la muerte y desaparición de miles de personas en las aguas del Mediterraneo, convirtiéndolo en una de las más grandes fosas comunes de la historia.
Como personas migrantes y refugiadas, nuestros viajes parten de las causas profundas de un modelo económico neocolonial que nos aleja de nuestras tierras y medios de subsistencia o de las guerras que continúan asolando nuestros países y nuestros recursos naturales. Además, las fronteras que nos excluyen en la política de la UE de la externalización de las fronteras también se extienden dentro de la Fortaleza de la UE en lugares sin derechos -en los centros de detención y campamentos-, así como en el racismo estructural imperante y el aumento de la islamofobia y la xenofobia. vida diaria.
¡Pero respondemos a esta situación con una invitación a construir una nueva solidaridad construida sobre la soberanía de los pueblos! ¡Sumamos nuestras voces de esperanza a su acción y exigimos la apertura de las fronteras europeas, Ya!
Transnational Migrant Platform-Europe; MDCD (Morrocan Platform in Europe), ( Euro-Mediterraan Centrum Migratie & Ontwikkeling (EMCEMO),Platform of Filipino Migrant Organisations in Europe; Centro Filipino; KASAPI-HELLAS, Greece, Ugnayan Filipino Sweden, Filipino Community Norway, Geneva Forum for Philippine Concerns; Social Development Cooperative-Ghana, Africa Roots Movement, Kromantse Foundation, RESPECT Network Europe, Comitato de los nuevos desaparcidos; France Amerique Latine (FAL/France); Union Syndicale Solidaries (France) y Transnational Institute (TNI).
https://transnationalmigrantplatform.net/wp-content/uploads/2017/07/43077485012_01061fc533_z.jpg
427
640
Transnational Migrant Platform
https://transnationalmigrantplatform.net/wp-content/uploads/2019/05/logo-1-300x117.png
Transnational Migrant Platform
2017-07-22 04:55:36
2022-04-05 15:16:10
Peoples Opening Borders and Together Building Solidarity