[EN] Many of our organizations and movements have collaborated and participated in actions and mobilizations over the past year, and in several joint activities over many years in the struggle for the rights of migrant and refugee peoples. We have mobilized against the continuing genocide at the borders, but also against the massive, forced displacement of peoples and the systemic violations of their human rights in all global regions and borders.
With the closure of rights-based pathways, that has led to the proliferation of camps, detention, the building of Walls, and intensifying militarization of borders globally, our organizations have protested at the borders; sustained sea-rescues; launched strikes for our labour rights and against slavery and exploitative working conditions in countries where we live and work in 'sites without rights".
We have linked up our struggles – against inequality, impoverishment and war arising from the extractivist corporate led development policies that destroy livelihoods and the environment. We have recognized that the struggle of migrant and refugees against impunity as an integral part of the struggle against all forms of racism and islamophobia and against the criminalization of solidarity.
In this context we have developed the Global Pact of Solidarity to strengthen our commitment to converge our efforts and build the movement with migrant and refugee people as part of the movement of movements fighting for another world and a just transition.
We propose to hold an online Forum on the 18th of December 2021 with two main objectives:
to share the important strategies, we have experienced in key moments of struggle and mobilization from the spaces – national, regional – where we are engaged.
to contribute proposals towards shaping an Action Plan – facing the challenges ahead in 2022 and to concretize the realization of the Global Solidarity Pact.
[ES] Muchas de nuestras organizaciones y movimientos han colaborado y participado en acciones y movilizaciones durante el año pasado, y en varias actividades conjuntas durante muchos años en la lucha por los derechos de los pueblos migrantes y refugiados. Nos hemos movilizado contra el continuo genocidio en las fronteras, pero también contra el desplazamiento masivo y forzado de los pueblos y las violaciones sistemáticas de sus derechos humanos en todas las regiones y fronteras del mundo.
Con el cierre de las soluciones basadas en los derechos, que ha llevado a la proliferación de campos, a la detención, a la construcción de muros y a la intensificación de la militarización de las fronteras en todo el mundo, nuestras organizaciones han protestado en las fronteras; han sostenido rescates en el mar; han lanzado huelgas por nuestros derechos laborales y contra la esclavitud y las condiciones de explotación laboral en los países donde vivimos y trabajamos en "sitios sin derechos".
Hemos vinculado nuestras luchas: contra la desigualdad, el empobrecimiento y la guerra derivados de las políticas de desarrollo dirigidas por las empresas extractivistas que destruyen los medios de vida y el medio ambiente. Hemos reconocido que la lucha de lxs migrantes y refugiadxs contra la impunidad es parte integral de la lucha contra todas las formas de racismo e islamofobia y contra la criminalización de la solidaridad.
En este contexto hemos desarrollado el Pacto Global de Solidaridad para reforzar nuestro compromiso de convergencia de esfuerzos y construir el movimiento con las personas migrantes y refugiadas como parte de un movimiento de movimientos que luchan por otro mundo y una transición justa.
Proponemos celebrar un Foro en línea el 18 de diciembre de 2021 con dos objetivos principales:
compartir las estrategias importantes, que hemos experimentado en momentos clave de lucha y movilización desde los espacios – nacionales, regionales – donde estamos comprometidxs.
contribuir con propuestas a la elaboración de un Plan de Acción – para afrontar los retos que se avecinan en 2022 y concretar la realización del Pacto Global de Solidaridad.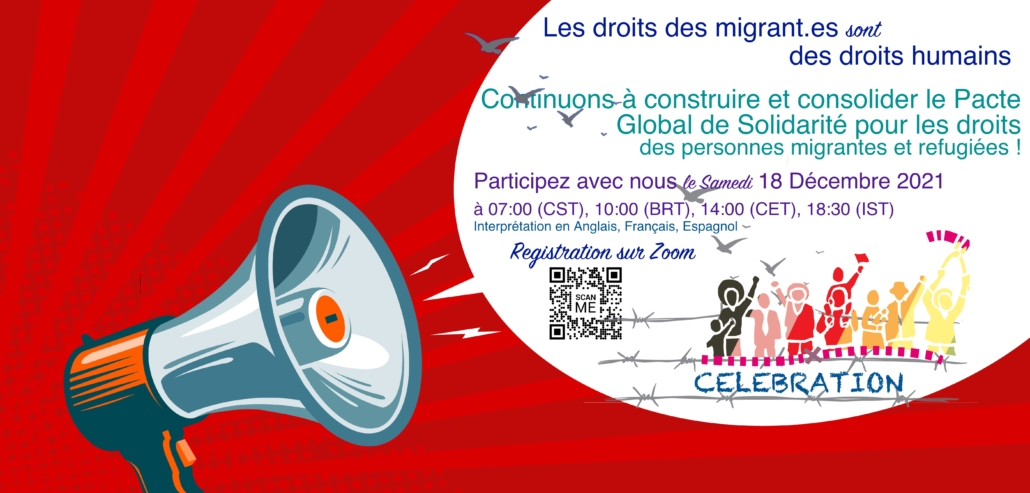 [FR] Beaucoup de nos organisations et mouvements ont collaboré et participé à des actions et des mobilisations au cours de l'année passée, et à plusieurs activités depuis de nombreuses années dans la lutte pour les droits des peuples migrants et réfugiés. Nous nous sommes mobilisés contre le génocide qui se poursuit aux frontières, mais aussi contre le déplacement massif et forcé des peuples et les violations systématiques de leurs droits humains dans toutes les régions et frontières du monde.
Face à l'obstruction des voies fondées sur les droits, qui a conduit à la prolifération des camps, à la détention, à la construction de murs et à l'intensification de la militarisation des frontières à l'échelle mondiale, nos organisations ont protesté aux frontières, soutenu les sauvetages en mer, lancé des grèves pour nos droits du travail et contre l'esclavage et les conditions de travail abusives dans les pays où nous vivons et travaillons dans des "sites sans droits".
Nous avons lié nos luttes – contre l'inégalité, l'appauvrissement et la guerre résultant des politiques de développement menées par les entreprises extractivistes qui détruisent les moyens de subsistance et l'environnement. Nous avons reconnu que la lutte des personnes migrantes et réfugiées contre l'impunité fait partie intégrante de la lutte contre toutes les formes de racisme et d'islamophobie et contre la criminalisation de la solidarité.
Dans ce contexte, nous avons élaboré un Pacte Global de Solidarité pour renforcer notre engagement à faire converger nos efforts et à construire le mouvement avec les personnes migrantes et réfugiées dans le cadre d'un mouvement de mouvements qui luttent pour un autre monde et pour une transition juste.
Nous proposons d'organiser un forum en ligne le 18 décembre 2021 avec deux objectifs principaux:
partager les principales stratégies que nous avons expérimentées lors de moments clés de lutte et de mobilisation dans les espaces – nationaux, régionaux – où nous sommes engagé.es.
contribuer à l'élaboration d'un plan d'action – pour faire face aux défis à venir en 2022 et concrétiser la réalisation du Pacte Global de Solidarité.
ORGANISED BY A COLLECTIVE OF CIVIL SOCIETY ORGANISATIONS AND SOCIAL MOVEMENTS / ORGANIZADO POR UN COLECTIVO DE ORGANIZACIONES DE LA SOCIEDAD CIVIL Y MOVIMIENTOS SOCIALES / ORGANISÉ PAR UN COLLECTIF D'ORGANISATIONS DE LA SOCIÉTÉ CIVILE ET DE MOUVEMENTS SOCIAUX

Follow #GlobalSolidarityPact and #MigrantRightsAreHumanRights on social media for updates / Siga #GlobalSolidarityPact y #MigrantRightsAreHumanRights en las redes sociales para conocer las novedades / Suivez #GlobalSolidarityPact et #MigrantRightsAreHumanRights sur les médias sociaux pour les mises à jour
https://transnationalmigrantplatform.net/wp-content/uploads/2021/12/Dec-18_final-ENG-scaled.jpg
1226
2560
Transnational Migrant Platform
https://transnationalmigrantplatform.net/wp-content/uploads/2019/05/logo-1-300x117.png
Transnational Migrant Platform
2021-12-15 10:50:53
2022-04-05 14:57:33
[EN/ES/FR] Migrant Rights Are Human Rights | Forum | 18 December 2021