What is the March to Brussels 2022?
The March to Brussels, initiated by the Caravana movements (Basque country and Italy), is now joined by many collectives, organisations, networks and movements from all over Europe to bring a clear message Rights-No Deaths to the center of Europe in Brussels focusing on the continuing spiral of deaths at the Europe's Borders – external and internal.
Migrant and Refugee people, from Africa, Middle East, Asia, Latin America are forcibly displaced from their homes and their livelihoods – because of the corporate extractivist model of development taking out the mineral and natural resources needed in Europe and the Global North as well as by famine, climate change and war.
Europe has built itself into a Fortress and its current policy has closed all legal ways of entering as a migrant or a refugee. So thousands are forced to take the most dangerous routes over land, by sea or by river and have died and continue to die daily on their journey.
Many of those who have entered live and work in intolerable conditions in "sites without rights" – or remain with an undocumented status and have no choice but to work in conditions of exploitation.
Why Join the March to Brussels?
From the network of mobilization in the 45th Session of the Permanent Peoples Tribunal (PPT) 2017-2020, we join the March and call for a major push-back from below on these intolerable conditions of crimes against the persons of migrant and refugee people. In place of 'sites without rights' we continue to build a new Global Pact of Solidarity saying:
STOP to the leaders of the EU and each government in the continent of Europe – to make visible the multiple resistances from below to this inhuman policy towards migrant and refugee people as well as to the criminalization of solidarity.
LINK our many local struggles in visible lines across Europe – exchanging our experiences and developing new strategies of solidarity
Together we can begin to develop a Europewide mobilization for Rights – No Deaths! And lay the basis for a Plan of Action going forward. Each voice and organization counts and makes a difference!
What is the Programme of activities in Brussels?
(Please see link for overview of Programme https://rights.nodeaths.eu/en/program/ )
Thursday, September 30
A delegation meets MEPs (details to be confirmed)
Friday, September 31
Caravana and all other participants arrive in Brussels by 13.00
People's Summit – Opening at 16.00-18.00
Reception
Saturday, October 1
Workshops at Peoples Summit 9.00-12.30
Manifestation/Demonstration 13.00-15.00
Peoples Summit – Closing Plenary
Cultural Evening
Sunday, October 2 – Departure
What do we bring to the March?
Write your Member of Parliament and the responsible official in the government
Sign the Call in support https://rights.nodeaths.eu/en/adhesions/ and ask your network to sign
Make a big outreach for other Sign-On
Organise a mini-caravan or delegation with your organization
Link-up with the Caravana from Irun – at Calais and other cross-points
Hold a parallel "in-solidarity" action in your community, sector, trade union
For further information:
Get in touch with:
www.facebook.com/MarchToBrussels
https://www.facebook.com/TransnationalMigrantPlatform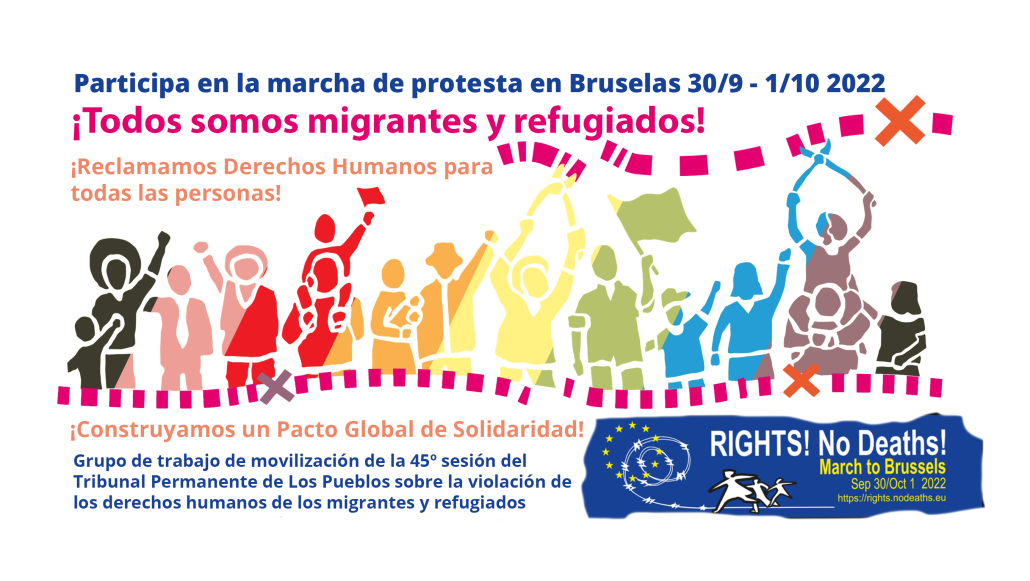 ¿Qué es la Marcha a Bruselas 2022?
A la Marcha a Bruselas, iniciada por los movimientos Caravana (País Vasco e Italia), se unen ahora muchos colectivos, organizaciones, redes y movimientos de toda Europa para llevar un mensaje claro de Derechos-No Muertes al centro de Europa en Bruselas, centrándose en la continua espiral de muertes en las Fronteras de Europa – externas e internas.
Las personas migrantes y refugiadas, procedentes de África, Oriente Medio, Asia y América Latina, son desplazadas a la fuerza de sus hogares y de sus medios de vida, debido al modelo de desarrollo extractivista de las empresas que extraen los recursos minerales y naturales necesarios en Europa y el Norte Global, así como por la hambruna, el cambio climático y la guerra.
Europa se ha erigido en una fortaleza y su política actual ha cerrado todas las vías legales de entrada como migrante o refugiado. Así que miles de personas se ven obligadas a tomar las rutas más peligrosas por tierra, mar o río y han muerto y siguen muriendo a diario en su viaje.
Muchos de los que han entrado viven y trabajan en condiciones intolerables en "sitios sin derechos", o permanecen con un estatus irregular o "sin papeles" y no tienen otra opción más que trabajar en condiciones de explotación.
¿Por qué unirse a la Marcha a Bruselas?
Desde la red de movilización de la 45ª Sesión del Tribunal Permanente de los Pueblos (TPP) 2017-2020, nos sumamos a la Marcha y llamamos a hacer una gran presión desde por estas condiciones intolerables de crímenes contra las personas migrantes y refugiadas. En lugar de "sitios sin derechos", seguimos construyendo un nuevo Pacto Global de Solidaridad diciendo:
STOP a los líderes de la UE y a cada gobierno del continente europeo – para hacer visibles las múltiples resistencias desde abajo a esta política inhumana hacia las personas migrantes y refugiadas así como a la criminalización de la solidaridad.
Vincular nuestras múltiples luchas locales en líneas visibles en toda Europa – intercambiando nuestras experiencias y desarrollando nuevas estrategias de solidaridad
Juntos y juntas podemos empezar a desarrollar una movilización a nivel europeo por los Derechos – ¡No Muertes! y sentar las bases de un Plan de Acción para el futuro. ¡Cada voz y organización cuenta y marca la diferencia!
¿Cuál es el programa de actividades en Bruselas?
(Véase el link para obtener una visión general del programa https://rights.nodeaths.eu/en/program/ )
Jueves 30 de septiembre
Una delegación se reúne con los eurodiputados (detalles por confirmar)
Viernes, 31 de septiembre
La caravana y todos los demás participantes llegan a Bruselas antes de las 13.00
Cumbre de los Pueblos – Apertura a las 16.00-18.00
Recepción
Sábado, 1 de octubre
Talleres en la Cumbre de los Pueblos 9.00-12.30
Manifestación/Protesta 13.00-15.00
Cumbre de los Pueblos – Plenario de clausura
Noche cultural
Domingo, 2 de octubre – Salida
¿Qué llevamos a la Marcha?
Escribe a tu diputado y al funcionario responsable del gobierno
Firma el Llamamiento de apoyo https://rights.nodeaths.eu/es/adhesiones/ y pide a tu red que firme
Haz una gran difusión para que otros firmen
Organiza una minicaravana o delegación con tu organización
Únete a la Caravana de Irún en Calais y otros puntos de paso
Realiza una acción paralela "solidaria" en tu comunidad, sector, sindicato
Para más información:
 ## Ponte en contacto con
www.facebook.com/MarchToBrussels
https://transnationalmigrantplatform.net/wp-content/uploads/2022/07/PPTlogo-ENGLISH.png
1520
2738
Transnational Migrant Platform
https://transnationalmigrantplatform.net/wp-content/uploads/2019/05/logo-1-300x117.png
Transnational Migrant Platform
2022-07-19 15:19:41
2022-07-19 15:19:43
Join the March to Brussels 2022 - Rights! No deaths! (Sept. 30-Oct. 1)  - Marcha de Protesta en Bruselas 2022