In solidarity with the family of those who have died at the borders of Melilla on June 24 2022 and with those organizing the actions on July 1 in Rabat and in Melilla
This massacre in Melilla of 29 persons on Friday June 24th is the latest most visible instance of the unacceptability of Europe's border externalization and militarization policy and its outsourcing of its responsibility in immigration and refugee policy to its neighbouring countries.
A Relentless spiral of deaths
Over the past several decades, this has led to consequences where we have witnessed a relentless spiral of deaths on the borders of Europe, as legal routes for migrant and refugee people to enter Europe have been closed and militarized.
We add our voices to the growing chorus of protest and condemnation and urge governments and the EU Commission to halt this deadly spiral of militarization, securitization, and closed borders. The conditions leading to this massacre in Melilla have been building up over several months – where for instance mass raids on camps and deliberate denial of medications and other basic needs have generated intolerable conditions.
This massacre urgently demands that the governments of Europe must look beyond borders and recognize that its corporate driven development, trade and investment policy and agreements are a major contributor to the loss of basic livelihoods and forced displacement and out migration in the global south, including in Africa.
The diversion of EU budgets and the profits of corporations
Furthermore, according to a recent report At What Cost? published by the Transnational Institute and Statewatch, the EU 2021-2027 Multi-annual Financial Framework allocates unprecedented amounts of public money to defence and security. The overall amount of money earmarked for security and defence spending is €43.9 billion, an increase of more than 123% when compared to the previous seven-year budgetary cycle, which allocated €19.7 billion for the same purpose. In addition, European states, such as Britain are also increasing their defence and military budgets.
These budgetary allotments foresee a deepening of the securitization and militarization regime, mega profits for the private arms and security corporations and raises profound concerns about the current direction of Europe's border policies and its policies on the human rights of migrant and refugee people.
A practice of Necropolitics
Over the past decades, and particularly in these years since 2015, the distorted migration and refugee polices of European states, have denied people of their rights and have led to the normalization of innumerable human rights violations – from thousands of deaths, to unlawful summary detention, physical brutality and torture, prolonged stay in CAMPs along the borders and in several European countries, and prohibition of rescue at sea. In the vanguard of this movement towards the repudiation of the fundamental right to seek asylum the United Kingdom government is currently attempting to renounce its obligation to even consider applications for refuge made at it border through attempts to enact a so-called resettlement plan in Rwanda. We entirely reject the possibility that this could be generalized as a model of all European states aiming to offshore its responsibilities to provide refugee protection by the automatic deportation of all asylum seekers to third countries.
The other side of this policy has also led to the conditions of sustained exploitation and inhumane working conditions for the thousands of undocumented women and men forced to live and work in inhumane conditions within Europe.
Growing global resistance to militarized closed borders
We see this as part of a global trend of repression of the right to life and the right to move. and the normalization of death for migrant and refugee people. Three days after Melilla, on June 27th, we have the reported deaths of more than 50 migrants (children, women and men from Mexico and several Central American countries) who died in truck transit in San Antonio, Texas, US. Within continents, and at most borders between continents – Latin America and the US, Africa and Europe, Middle East & Asia and Europe, the walls are more strongly militarized including those that stretch from Palestine to Western Sahara to Kashmir and other global regions.
According to Gianni Tognoni, Secretary General of the Permanent Peoples' Tribunal " the gravity of what has occurred [in Melilla] declares that the people of migrants – whatever their origin and history of repression – is the most powerful indicator of the failure of will of the EU – denying not only its history, but even more dramatically its future as a democratic society. The concurrent events of these days, also confirm that the struggle to reverse this systematic evolution of Europe towards a truly criminal behavior is every time more urgent."
Migrant and refugee communities and networks, as well as social movements, human rights organisations and engaged civil society have been responding with multiple initiatives – from humanitarian support to campaigning against these brutal and inhumane policies.
Join us on our March to Brussels – Rights! No Deaths! and the Peoples Summit on Migration (September 30-October 2, 2022). For more information, please go to the website here.
Together with many other organisations, we respond to:
Intensify campaigns to dismantle the deadly border regimes, end FRONTEX and call for de-militarisation and opening of all borders and the closure of the camps.
Seek justice for those who have died, including the prosecution of those who perpetrate these crimes against migrant and refugee people.
Intensify our efforts to build a Global Pact of Solidarity based on human rights for all women and men – ending neocolonial and racist development and halt climate change – strengthening the initiatives for a just transition. Sign on here to Global Pact for Solidarity! a call to all people and organizations that confront the so-called intergovernmental Global Compact(s) for Migration and Refugees adopted in Marrakesh, Morocco on 10 December 2018. We call you to join and build this Alternative Pact of Solidarity and unity whose central axis is the defense of the full rights of migrant and refugee people around the world.
Communique from the Mobilisation working group of the 45th session Permanent Peoples Tribunal on the Violations of the Human Rights of Migrant and Refugee Peoples Violations of Human Rights of Migrant and Refugee Peoples.
(Waling Waling, Ogni Etorri OEE, Stop the Wall Campaign, CFMW, Platform for Filipino Migrant Workers, Verità e Giustizia per i Nuovi Desaparecidos, ECVC/La Via Campesina, Sin Fronteras, CRID, FAL, Transnational Migrant Platform-Europe, Transnational Institute, RESPECT Network Europe, London PPT Steering Group).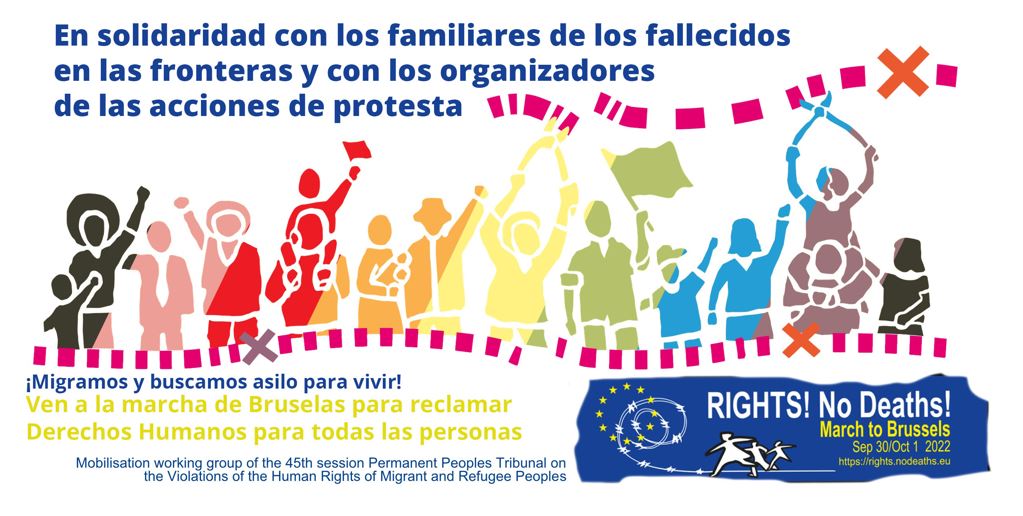 Masacre de personas migrantes y refugiadas en la frontera Europa-África
En solidaridad con los familiares de los fallecidos en las fronteras de Melilla el 24 de junio de 2022 y con los organizadores de las acciones del 1 de julio en Rabat y en Melilla
Esta masacre en Melilla de 29 personas el viernes 24 de junio es el último ejemplo más visible de lo inaceptable de la política de externalización y militarización de fronteras de Europa y de la externalización de su responsabilidad en la política de inmigración y refugio a sus países vecinos.
Una espiral implacable de muertes
A lo largo de las últimas décadas, esto ha tenido como consecuencia una espiral incesante de muertes en las fronteras de Europa, ya que se han cerrado y militarizado las rutas legales de entrada al continente para las personas migrantes y refugiadas.
Sumamos nuestras voces al creciente coro de protestas y condenas e instamos a los gobiernos y a la Comisión de la UE a detener esta espiral mortal de militarización, securitización y cierre de fronteras. Las condiciones que han conducido a esta masacre en Melilla se han ido acumulando a lo largo de varios meses, en los que, por ejemplo, las redadas masivas en los campamentos y la denegación deliberada de medicamentos y otras necesidades básicas han generado condiciones intolerables.
Esta masacre exige urgentemente que los gobiernos de Europa miren más allá de las fronteras y reconozcan que sus políticas y acuerdos de desarrollo, comercio e inversión impulsados por las empresas son uno de los principales factores que contribuyen a la pérdida de los medios de vida básicos y al desplazamiento forzado y la migración en el sur global, incluida en África.
El desvío de los presupuestos de la UE y los beneficios de las empresas
Además, según el reciente informe At What Cost? (¿A qué precio?) publicado por el Transnational Institute y Statewatch, el Marco Financiero Plurianual de la UE para 2021-2027 asigna cantidades sin precedentes de dinero público a la defensa y la seguridad. La cantidad global de dinero destinada a gastos de seguridad y defensa es de 43.900 millones de euros, lo que supone un aumento de más del 123% en comparación con el anterior ciclo presupuestario de siete años, que asignó 19.700 millones de euros para el mismo fin. Además, los Estados europeos, como Gran Bretaña, también están aumentando sus presupuestos militares y de defensa.
Estas asignaciones presupuestarias prevén una profundización del régimen de securitización y militarización, megabeneficios para las corporaciones privadas de armas y seguridad, y plantea profundas preocupaciones sobre la dirección actual de las políticas fronterizas de Europa y sus políticas sobre los derechos humanos de las personas migrantes y refugiadas.
Una práctica de necropolítica
A lo largo de las últimas décadas, y especialmente en estos años desde 2015, las distorsionadas políticas migratorias y de refugio de los estados europeos, han negado a las personas sus derechos y han llevado a la normalización de innumerables violaciones de los derechos humanos -desde miles de muertes a la detención sumaria ilegal, la brutalidad física y la tortura, la estancia prolongada en campos a lo largo de las fronteras y en varios países europeos, y la prohibición del rescate en el mar. En la vanguardia de este movimiento hacia el repudio del derecho fundamental a solicitar asilo, el gobierno del Reino Unido está intentando actualmente renunciar a su obligación de considerar siquiera las solicitudes de refugio presentadas en su frontera mediante el intento de promulgar un supuesto plan de reasentamiento en Ruanda. Rechazamos por completo la posibilidad de que esto pueda generalizarse como un modelo de todos los Estados europeos que pretenden desviar sus responsabilidades de proporcionar protección a los refugiados mediante la deportación automática de todos los solicitantes de asilo a terceros países.
La otra cara de esta política también ha llevado a las condiciones de explotación sostenida y a condiciones de trabajo inhumanas para miles de mujeres y hombres en situación irregular, obligados a vivir y trabajar en condiciones inhumanas en Europa.
Creciente resistencia mundial a las fronteras cerradas y militarizadas
Consideramos que esto forma parte de una tendencia mundial de represión del derecho a la vida y del derecho a la circulación, y de normalización de la muerte de las personas migrantes y refugiadas. Tres días después de la masacre de Melilla, el 27 de junio, nos enteramos de la noticia de la muerte de más de 50 migrantes (niños, niñas, mujeres y hombres de México y varios países de América Central) dentro de un camión en San Antonio, Texas, Estados Unidos. Dentro de los continentes, y en la mayoría de las fronteras entre continentes -América Latina y Estados Unidos, África y Europa, Oriente Medio y Asia y Europa-, los muros están más fuertemente militarizados, incluidos los que se extienden desde Palestina hasta el Sáhara Occidental, pasando por Cachemira y otras regiones mundiales.
Según Gianni Tognoni, Secretario General del Tribunal Permanente de los Pueblos, "la gravedad de lo ocurrido [en Melilla] declara que el pueblo de los migrantes -cualquiera que sea su origen y su historia de represión- es el indicador más poderoso del fracaso de la voluntad de la UE, negando no sólo su historia, sino aún más dramáticamente su futuro como sociedad democrática. Los acontecimientos concurrentes de estos días también confirman que la lucha para revertir esta evolución sistemática de Europa hacia un comportamiento verdaderamente criminal es cada vez más urgente."
Las comunidades y redes de migrantes y refugiados, así como los movimientos sociales, las organizaciones de derechos humanos y la sociedad civil comprometida han respondido con múltiples iniciativas, desde el apoyo humanitario hasta la realización de campañas contra estas políticas brutales e inhumanas.
Acompáñanos en nuestra Marcha a Bruselas – ¡Derechos! No Muertes! y a la Cumbre de los Pueblos sobre Migración (30 de septiembre-2 de octubre de 2022). Para más información, visita el sitio web aquí.
Junto con muchas otras organizaciones, pedimos:
– Intensificar las campañas para desmantelar los mortíferos regímenes fronterizos y FRONTEX, y llamar a la desmilitarización y la apertura de todas las fronteras y el cierre de los campos.
– Buscar justicia para las personas que han muerto, incluyendo el juicio de quienes perpetran estos crímenes contra las personas migrantes y refugiadas.
– Intensificar nuestros esfuerzos para construir un Pacto Global de Solidaridad basado en los derechos humanos para todas las mujeres y hombres, poniendo fin al desarrollo neocolonial y racista, frenar el cambio climático, y reforzando las iniciativas para una transición ajustada. Firma aquí el Pacto Global de Solidaridad, un llamamiento a todas las personas y organizaciones que se enfrentan a los llamados Pactos Global(es) para la Migración y El Refugio intergubernamentales adoptados en Marrakech, Marruecos, el 10 de diciembre de 2018. Pedimos que participes y construyas con nosotras este Pacto Alternativo de Solidaridad y unidad cuyo eje central es la defensa de los derechos plenos de las personas migrantes y refugiadas en todo el mundo.
Comunicado del grupo de trabajo de movilización de la 45ª sesión del Tribunal Permanente de los Pueblos sobre las Violaciones de los Derechos Humanos de los Pueblos Migrantes y Refugiados.
(Waling Waling, Ongi Etorri OEE, Stop the Wall Campaign, CFMW, Platform for Filipino Migrant Workers, Verità e Giustizia per i Nuovi Desaparecidos, ECVC/La Via Campesina, Sin Fronteras, CRID, FAL, Transnational Migrant Platform-Europe, Transnational Institute, RESPECT Network Europe, London PPT Steering Group).
[Descarga el comunicado en PDF]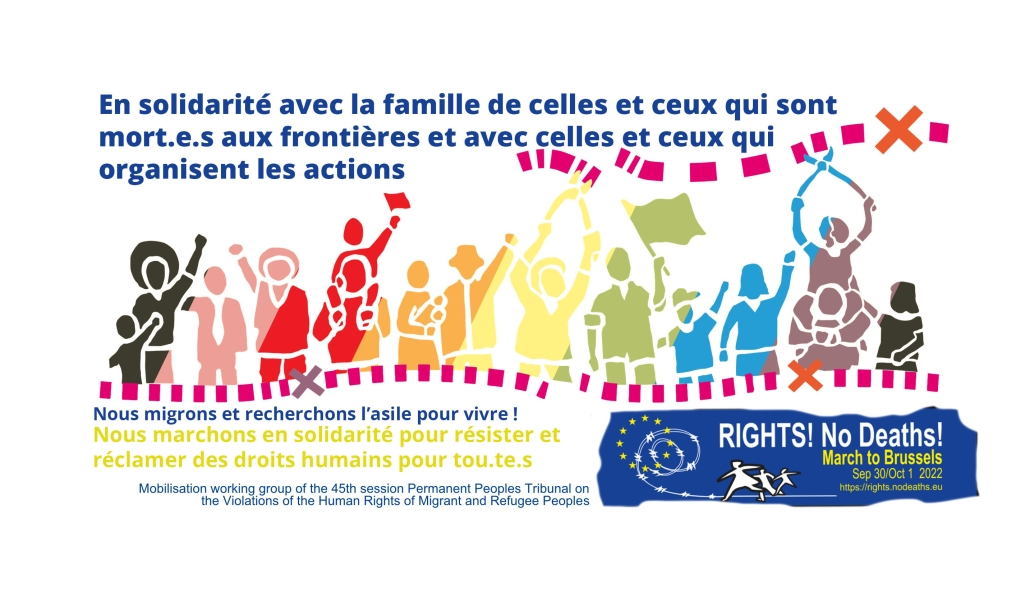 Massacre de personnes migrantes et réfugiées à la frontière Europe-Afrique
En solidarité avec la famille de celles et ceux qui sont mort.e.s aux frontières de Melilla le 24 juin 2022 et avec celles et ceux qui organisent les actions du 1er juillet à Rabat et à Melilla.
Le massacre de 29 personnes à Melilla le vendredi 24 juin est la dernière manifestation la plus visible de l'inacceptabilité de la politique d'externalisation et de militarisation des frontières de l'Europe et de l'externalisation de sa responsabilité en matière de politique migratoire vers ses pays voisins.
Une inexorable spirale de décès
Au cours des dernières décennies, nous avons assisté à une inexorable spirale de décès aux frontières de l'Europe, alors que les voies légales pour les migrant.e.s et réfugié.e.s en Europe ont été fermées et militarisées.
Nous ajoutons nos voix à celles croissantes de protestations et de condamnations et demandons urgemment aux gouvernements et à la Commission européenne de mettre fin à cette spirale mortelle de militarisation, de sécurisation et de fermeture des frontières. Ce massacre à Melila n'est pas le fruit du hasard mais a été permis par une accumulation de choix pendant plusieurs mois – où par exemple les raids massifs sur les camps et le refus délibéré de médicaments et d'autres besoins fondamentaux ont généré des conditions intolérables.
Ce massacre exige de toute urgence que les gouvernements de l'Europe regardent au-delà de leurs frontières et reconnaissent que leur politique de développement, conduites par les entreprises, le commerce et les politiques d'investissements, contribuent largement à la perte des premiers moyens de subsistance, aux déplacements forcés et à l'émigration dans le Sud, y compris en Afrique.
Le détournement du budget de l'UE et les profits des entreprises
De plus, selon un récent rapport intitulé At What Cost ? (« A quel prix ? ») publié par le Transnational Institute et Statewatch, le Cadre financier pluriannuel 2021-2027 de l'UE alloue des montants d'argent public sans précédent à la défense et à la sécurité. Le montant global des sommes affectées aux dépenses de sécurité et de défense s'élève à 43,9 milliards d'euros, soit une augmentation de plus de 123 % par rapport au précédent cycle budgétaire de sept ans, qui avait alloué 19,7 milliards d'euros dans le même but. En outre, les États européens, Grande-Bretagne comprise, augmentent également leurs budgets de défense et militaires.
Ces allocations budgétaires anticipent un approfondissement du régime de sécurisation et de militarisation et des méga-profits pour les sociétés privées d'armement et de sécurité, soulevant de profondes inquiétudes quant à l'orientation actuelle des politiques frontalières de l'Europe et de ses politiques en matière de droits humains des migrant.e.s et des réfugié.e.s.
La pratique d'une Necropolitique
Au cours des dernières décennies, et particulièrement depuis l'année 2015, la déformation des politiques migratoires des États européens ont privé les personnes de leurs droits et ont conduit à la normalisation d'innombrables violations des droits humains – de milliers de morts à la détention sommaire illégale, en passant par la brutalité physique et la torture, au séjour prolongé dans des CAMPS le long des frontières et dans plusieurs pays européens, et à l'interdiction du sauvetage en mer. À l'avant-garde de ce mouvement vers la répudiation du droit fondamental d'asile, le gouvernement du Royaume-Uni tente actuellement de renoncer ne serait-ce qu'à son obligation d'examiner les demandes faites à sa frontière en essayant de mettre en œuvre un soi-disant plan de réinstallation au Rwanda. Nous rejetons complétement la possibilité que cela puisse être généralisé comme un modèle pour chaque Etats européens voulant délocaliser ses responsabilités en matière de protection des réfugié.e.s par la déportation automatique de tous les demandeurs d'asile vers des pays tiers.
Le pendant de cette politique a aussi conduit à des conditions d'exploitation soutenue et des conditions de travail inhumaines pour les milliers de femmes et d'hommes sans papiers contraints de vivre et de travailler ainsi en Europe.
Une résistance mondiale qui croit face aux frontières fermées et militarisées
Nous considérons cette situation comme s'inscrivant dans une tendance mondiale de répression au droit à la vie et au droit de circuler ainsi que de normalisation de la mort des personnes migrantes et réfugiées. Le 27 juin, trois jours après Melilla, nous avons appris la mort de plus de 50 migrant.e.s (enfants, femmes et hommes du Mexique et de plusieurs pays d'Amérique centrale) qui sont morts dans un camion en escale à San Antonio au Texas (États-Unis). Au sein des continents, et à la plupart des frontières entre ceux-ci – Amérique latine et États-Unis, Afrique et Europe, Moyen-Orient, Asie et Europe – les murs sont plus fortement militarisés, sans oublier ceux qui s'étendent de la Palestine au Sahara occidental au Cachemire et dans d'autres régions du monde.
Selon Gianni Tognoni, Secrétaire Général du Tribunal Permanent des Peuples : "La gravité de ce qui s'est passé [à Melilla] témoigne que le peuple des migrants – quelle que soit son origine et l'histoire de sa répression – est l'indicateur le plus puissant de l'échec de volonté de l'UE – niant non seulement son histoire, mais encore plus dramatiquement son avenir en tant que société démocratique. Les événements concomitants de ces derniers jours confirment également que la lutte pour renverser cette évolution systématique de l'Europe, évolution vers un comportement véritablement criminel, est à chaque moment plus urgente."
Les communautés et réseaux de migrant.e.s et de réfugié.e.s, ainsi que les mouvements sociaux, les organisations de défense des droits humains et une société civile engagée ont répondu par de multiples initiatives – du soutien humanitaire à l'organisation de campagne contre ces politiques brutales et inhumaines.
Rejoignez-nous lors de notre Marche vers Bruxelles – Des droits et non des morts ! – et au Sommet des Peuples sur les migrations (Du 30 septembre au 2 octobre 2022). Pour plus d'informations, cliquez ici.
Avec de nombreuses autres organisations, nous agissons pour :
Intensifier des campagnes pour démanteler les régimes frontaliers meurtriers, mettre fin à FRONTEX et demander la démilitarisation et l'ouverture de toutes les frontières et la fermeture des camps.
Réclamer justice pour ceux qui sont morts, entre autres choses en poursuivant ceux qui commettent ces crimes contre les migrants et les réfugiés.
Intensifier nos efforts pour construire un Pacte Mondial de Solidarité basé sur les droits humains pour toutes les femmes et tous les hommes – mettre fin au développement néocolonial et raciste et stopper le changement climatique – renforcer les initiatives pour une transition juste. Signez ici le Pacte mondial de solidarité ! un appel à toutes les personnes et organisations qui s'opposent au(x) soi-disant Pacte(s) mondial(s) intergouvernemental(aux) pour les migrations et les réfugiés adopté(s) à Marrakech, au Maroc, le 10 décembre 2018. Nous vous appelons à rejoindre et à construire ce Pacte alternatif de solidarité et d'unité dont l'axe central est la défense des pleins droits des personnes migrantes et réfugiées dans le monde entier.
Communiqué du groupe de travail Mobilisation de la 45e session Tribunal permanent des peuples sur les violations des droits de l'homme des peuples migrants et réfugiés.
(Waling Waling, Ongi Etorri OEE, Stop the Wall Campaign, CFMW, Platform of Filipino Migrant Organisations in Europe, Verità e Giustizia per i Nuovi Desaparecidos, ECVC/La Via Campesina, Sin Fronteras, CRID, FAL, Transnational Migrant Platform-Europe, Transnational Institute, RESPECT Network Europe, London PPT Steering Group).
https://transnationalmigrantplatform.net/wp-content/uploads/2022/07/PPTlogo-english-pequeno.jpg
823
1479
Transnational Migrant Platform
https://transnationalmigrantplatform.net/wp-content/uploads/2019/05/logo-1-300x117.png
Transnational Migrant Platform
2022-07-01 10:45:32
2022-07-11 14:24:44
[EN/ES/FR] Massacre of Migrant and Refugee people at Europe-Africa border (Communique working group of the 45th session Permanent Peoples Tribunal)